What Are The Best Running Shoes For Zumba?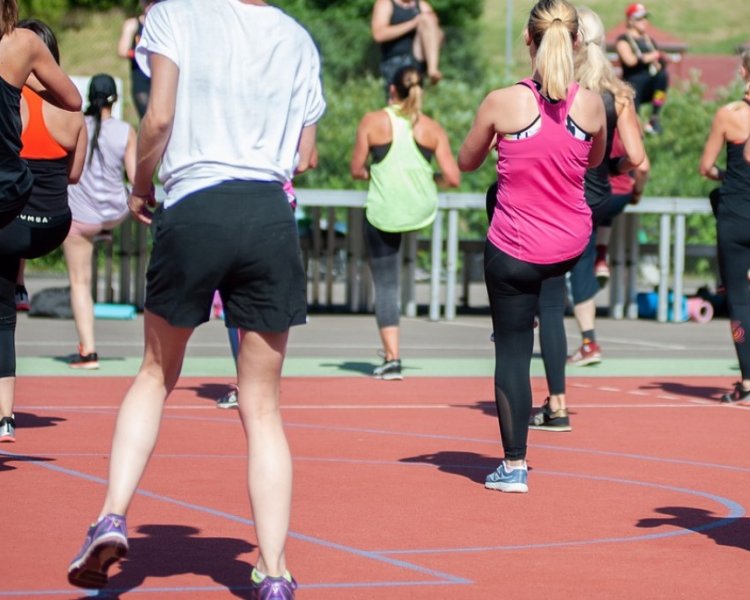 pixabay - The content contains affiliate and/or paid links.
You will have a lot of Zumba instructors and fellow classmates all try and tell you that running shoes are not designed for Zumba.
You will be told that running shoes are too inflexible and have way too much traction to be able to perform the frequent pivots, turns, and slides that are a large part of any Zumba exercise routine.
While some running shoes may not be designed for Zumba or other fitness dance classes, there are some that are lightweight, flexible, and have less traction than other running shoes.
The running shoes best suited for Zumba classes will not be designed for strenuous off road runs, but can give you great performance on shorter distance track runs.
If you are cross training and using Zumba as a part of your endurance training, or simply like the cushioning that running shoes provide, we have some of the best Zumba fitness shoes that can give you the best of both worlds:
RYKA Women's K1093WWSL Studio Flex Low Shoe
PUMA Women's Tazon 6 WN's FM Cross-Trainer Shoe

Ryka Women's Influence Cross Training Shoe (My Pick)
SPIRA Women's Stinger XLT Athletic
ASICS Women's Gel-Quantum 180 Tr Running Shoe
Read Also: Caring For Your Zumba Shoes: 5 Easy Tips!
Best Running Shoes for Zumba
#1 Top Flexibility
Styled after traditional running shoes, including a padded ankle collar and foot bed cushioning.
The synthetic and mesh construction is lightweight, flexible and durable, along with offering breathable comfort. The rubber sole gives you balance and traction, along with the forefront grooves that help the shoes move with your feet.
Easily go from the studio dance floor to the track in these stylish low cut running shoes.
RYKA Women's K1093WWSL Studio Flex Low Shoe
These lightweight shoes are very flexible and will allow you move smoothly both indoors and outdoors.
#2 Stylish Running Zumba Shoes
These low cut sleek running and dance shoes are stylish and fun, along with being able to improve your performance.
The leather and textile construction is flexible and durable, while the mesh upper helps to keep your feet from sweating or overheating. Their modern design not only improve the shoes fit, but also helps to protect from impact shock. An outer sole with both pivot points and gripping traction lets you easily move across the studio dance floor.
TIP: Double check the sizing chart, as they size slightly smaller.
Read Full Review: PUMA Women's Tazon 6 Shoe Review
PUMA Women's Tazon 6 WN's FM Cross-Trainer Shoe
Comfortable and stylish zumba shoes.
#3 My Favorite Runner Shoes For Zumba
The padded tongue and color, along with added bounce in the insole is ideal for both sprinting and for jumping. The mid sole gives you plenty of shock absorbing support, while the outer sole provides plenty of traction on slippery tracks and studio dance floors.
The raised and rounded toe also makes it easy to pivot and turn to all of your favorite Zumba dance music.
Read Full Review: Ryka Women's Influence Cross Training Shoe Review

RYKA Women's Influence Aerobics Shoe
Designed like a running shoe but fashioned to fit into any colorful Zumba dance class, this pair of women's athletic footwear features that best of both worlds.
#4 Lightweight Pick

While this SPIRA running shoe may look heavy and bulky, it is actually surprising lightweight and flexible.
It offers plenty of arch support, and is also ideal for weak knees and hips with a slightly raised heel.
The Eva rubber sole is shock absorbent with plenty of traction, while the rounded toe makes it easy to slide through all of your dance moves.
SPIRA Women's Stinger XLT Athletic
A rounded, cushioned foot bed and mid sole with springs make these some of the best shoes for Zumba and running.
#5 Top Comfort

These running shoes for Zumba were designed to cushion and pamper your feet.
The synthetic and mesh construction is durable and flexible, and the rubber sole provides plenty of traction and balance.
The raised heel gives you an extra push whether you are running or jumping, while the gel cushioning system protects the back of your foot.
Mid sole cushioning and support, along with bounce back foam, make these some of the best performing shoes for cross training and aerobic dance.
ASICS Women's GEL-180 TR Running Shoe
It is the cushioning and arch support that is included in these shoes that makes them stand apart.
Read Also: What is the Best Zumba Sneakers for Women?
...