Best Kayaks For Big Guys In 2023- A Comprehensive Buyer's Guide!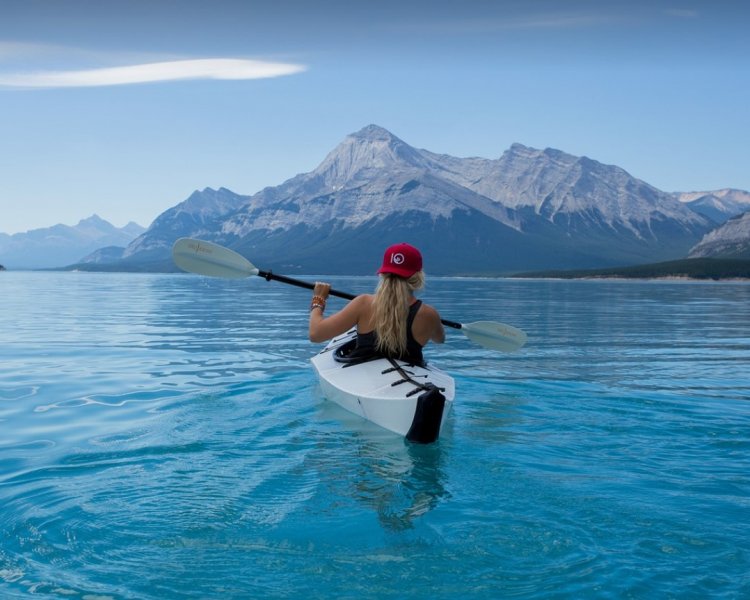 pixabay - The content contains affiliate and/or paid links.
If you're a big guy, finding a kayak that suits you is not an easy task! There are loads of different kayaks out there that claim to be the best in the business. And as a regular person, it can be quite challenging for you to determine which of them is actually the best one for you. So, here's an all-inclusive, unbiased buying guide that will help you narrow down the variables in order to reach the one kayak that's made for you!
With the kayaking season just around the corner, people want to get their hands on kayaks that would make their experience worthwhile. In order to figure out which kayak will fit your needs perfectly, you need to analyze them from all aspects deeply.
Companies like Sea Eagle and Vibe launch numerous models every year. But, not all kayaks are ideal for a large person. Therefore, checking things like adequate leg space, easy maneuverability, sufficient weight-bearing capacity, and type is crucial in order for you to make the right pick.
So, to help you out in every department, we have crafted the perfect buyers' guide for a large person. It features seven of the best kayaks out there. Each pick was based on customer reviews, performance, and overall durability.
Without further ado, let's get straight into it!
The Top 7 Kayaks for a Large Person in 2021
#1 Sea Eagle 370 Inflatable - The Overall Best
The first inflatable kayak on our list is the Sea Eagle 370, with a supreme weight limit of 340 kilograms. Its inflatable construction makes things simpler to transport than its competitors. You'll never have to hire a truck to carry your typical hard-shell kayaks anymore. It is easier to store because it does not take up much stretch in your home or garage. Because of its inner air, it also provides a great deal of convenience while sitting.
You will need to have a small electric pump to support you inflating it. However, it does come with a foot pump that requires about eight minutes to inflate the kayak completely.
In regards to extras, the Sea Eagle 370 includes two four-piece kayak paddles and a carry bag. The inner cockpit is large enough and comes with two inflatable seats. The kayak is so powerful that it can carry up to three people and a load of 340 kg.
You can change these seats to multiple positions depending on whether extra legroom or storage capacity is necessary. Sea eagle 370 even enables a big person to completely eliminate one of the seats if he wants to paddle alone.
The seam is well-glued, guaranteeing that there are no air escapes during your journey. In addition, the Sea Eagle 370 includes a 3-year warranty. This kayak is also approved for Class III whitewater and has two skegs on the bow to boost ultimate speed and monitoring abilities.
[amazon box="B00Q2ELI6I"]
Best Features
There is tremendous stability in the Sea Eagle 370 kayak
It is built using solid, durable material
When it comes to kayaks, they're incredibly versatile and tiny
Beginners will have no trouble lifting this kayak
It is easy to use and comfy to sit on
The setup and inflation of this Sea eagle 370 are a delight
A weight capacity of 32 lbs makes it a good kayak for high and big people
Sea eagle 370 kayak has a sound tracking system
This kayak allows for simple entering and exiting
It is indeed stable enough to stand on water
Drawbacks
There are no D-rings on the side to secure the gear tracking
Sea eagle 370 inflatable kayak is a little slower than the non-inflatable kayaks
There is no high-pressure drop-stitch flooring
#2 Vibe Kayaks Sea Ghost 130 - Best For Fishing
Vibe Sea Ghost 130 is a 13-foot kayak that can cater to a person weighing approximately 550 pounds. Doesn't that sound like a great idea? Yes!
This kayak can accommodate big guys who enjoy fishing. If you weigh between 300 and 550 pounds or are taller than 6 feet, this extra broad kayak will be ideal for you.
This kayak is made of tough, high-density polyethylene that can withstand the strong currents of rivers. It also includes an integrated rudder for better sailing, sparing you a lot of effort for fishing. The Ghost 130 also features storage, which is something that most anglers look for in a kayak.
The Vibe Ghost 130 measures 13 feet long and 33 inches broad. Perfect for all of the pre-installed capabilities that every angler needs. It also includes a cup holder. So you may sip your coffee as you wait for a great catch.
It comes in five different colors that you may mix and match depending on the geography of your fishing trip. Smoke Camo, Hunter Camo, Orange Camo, Galaxy, and Blue Camo are the available colors.
It is the best kayak for the money, with a price tag of less than a thousand dollars. With all of its clever features and high-quality materials, this kayak outperforms all of its competitors. The vibe did an excellent job!
Best Features
Toe-controlled rudder for simple stability
There is plenty of storage space, with gear tray holders and two flush-mount fishing rod holders.
Vibe hero seat with double positions and foot braces for ultimate comfy seating
There are four integrated gear tracks.
It is possible to equip it with a fish finder transducer.
Have a large trunk in the back
It comes in a variety of vibrant colors.
A wider hull provides more stability.
Drawbacks
Vibe Kayaks Sea Ghost 130 is a little heavy for little people
There is only one year warranty for this kayak
There are not many drawbacks! (It is one of the favorites among users)
If you're looking for a kayak designed exclusively for fishing, the UH-RA220 is a must-have. It offers practically everything, from a solid, long-lasting build to good water performance. When you consider the pricing, it becomes an even more appealing kayak.
The kayak's capability is 450 pounds, which is more than adequate for most fishers. But, this results in a total weight of 70 pounds, which may be challenging to navigate if you fish alone. You won't have to worry about transporting it to and from the water because it has side-mounted carrying handles. The bow has a carved grip that makes it simple to lift and land if you're fishing alone.
There is also a spacious cargo space at the rear where you may store heavier items. Genuinely, the movable, high-backed seat is incredible. Its seat is not just for one type of individual; it's for almost anyone.
Even though it isn't the lightest or most maneuverable kayak on the market, it accomplishes the job admirably. However, It is not suitable for everyone. If you want flush rod hooks or something lightweight and straightforward to maneuver, you should look elsewhere. But, if you can live without those two things in exchange for much more, the UH-RA220 could be a terrific choice for you.
Best Features
BKC is lighter in weight than others
It is made with a metal framework
BKC is compatible with sensors
It is available in a variety of cool colors.
BKC UH-RA220 offers a warranty period of 5 years
There are numerous reclining positions on the chair.
It has four-rod holders with flush mounts
There is plenty of watertight storage and freight capacity with tie-downs.
You can control the rudder with your feet
Drawbacks
The UH-RA220 is kind of bulky for a single-passenger kayak
Some users may feel the seats are a bit uncomfortable.
There is only one rod carrier, but you can fit aftermarket rod hookers
#4 Sea Eagle 380X - Maximum Weight Capacity
The Sea Eagle 380 inflatable kayak is ready to carry even the heaviest individual. It can also take two or three persons. So if you're a big guy, this is the kayak for you. The Sea Eagle 380X outperforms comparable hard shell whitewater kayaks with a weight capability of 750 lbs.
This kayak can carry more weight because of its inflatable material, which provides extra stability. The kayak is lightweight without sacrificing durability or balance. This kayak can endure rough pebbles and even pet claws.
Another great feature of the Sea Eagle 380x is that it can be inflated to a 31 x 20 x 9-inch box, making it simpler to handle and carry.
The Sea Eagle's design is also adaptable; you can paddle it or attach it to an electric engine if you need to relax. With this kayak, you can speed down rapids just as conveniently as you can row in clearwater.
Sea Eagle is a leading company in inflatable kayaking, and its whitewater kayaks are rock-solid vessels. 380X is one of them. It consists of a tough, 1,000-denier high-pressure fabric. This fabric resists tears and punctures from the sharper sticks, rocks, and claws. Additionally, this kayak's overlapped seams don't leak air.
Best Features
Getting in and out is easy.
Camping and overnight journeys are easier.
Certified by the NMMA and designed to survive Class IV rapids
Quickly deflates into a compact and portable size
Comes with instructions and a repair kit
You can remove the sliding skeg for straight tracking
Three years warranty
There are 16 fast-draining hose valves
You can use this kayak with a 15-lbs electric motor
Have D-rings for protecting hardware
Drawbacks
Sea eagle 380X is not as quick as some of the other kayaks.
Its tracing system requires the use of a skeg.
There aren't many downsides (People love this kayak!)
#5 Elkton Outdoors Tandem Kayak - The Most Durable
The body of the Elkton Outdoors Tandem Fishing Kayak is built of rotomold injected polyethylene. The possibility of a leakage when on the water is considerably decreased in this manner. It can provide endurance for many years if properly maintained.
With this kayak, you'll get your money's worth. It handles water exceptionally well, gliding effortlessly even in stormy water. In addition, the tandem kayak provides vast storage space for storing all of the equipment essential for a fishing trip.
A storage area in the middle can accommodate coolers and ice cubes to keep your seafood and beverages cool. It isn't too heavy to transport. Therefore it's portable. It weighs between 75 and 100 pounds. One of the users says that he could take it to the back of his pickup by himself.
The kayak has a maximum weight capacity of 650 pounds and can comfortably carry two adults. In addition, the two double-sided paddles offer extra storage space, which may be used to store your walkie-talkie, purse, etc.
Users are happy with the quality, and the fact that it is durable adds to the overall appeal of this kayak. The size is ideal. You will be satisfied with the kayak's size for fishing or cruise activities.
[amazon box="B07B8WZJVJ"]
Best Features
From the rigid PVC to the welded joints, the structure is solid and long-lasting.
Tears in an inflatable kayak will be a relic of the past.
The Elkton Outdoors tandem kayak has a higher air retention rate than some other inflatable kayaks.
It comes with sturdy yet lightweight paddles.
Rod holders make it simple to store fishing rods.
Inflatable boats are easy to move and store because they take up less room.
Drawbacks
The seat belt is made of inferior materials.
When it comes to details on repairing the gears, the handbook is lacking.
Users have been dumped into the water on at least one occasion, which does not happen when using other kayaks.
#6 FeelFree Lure 13.5 - The Most Stylish
The FeelFree Lure 13.5 is a fishing kayak with a lot of features at a low price. Also featuring a high weight limit of 500 pounds, the Lure's attraction to big guys goes beyond just weight restrictions. The Lure 13.5 weighs in at 107 lbs (48.53 kg). Attention is necessary when loading and unloading this kayak. But the added weight helps balance the kayak when it's being tossed about in stormy water.
Because of its 500-pound maximum capacity, the Lure 13.5 is excellent for lengthy travels. Packing a lot of supplies into your kayak isn't a problem because it won't weigh it down. As a general rule, a kayak should not be loaded over 80% of its total capacity.
As a result of its numerous features, the Lure 13.5 is an excellent investment.
Lure 13.5 has molded-in handles on the bow, rear, and along every side of the kayak, retaining with FeelFree's heritage. As well as providing you with a firm hold, these handles can also be used to secure your kayak. It is fast, comfy, and stable. This kayak can also withstand adverse circumstances, making it ideal for open-water fishing.
Plus included with the Lure 13.5 are rod tip guards. Worry-free fishing!
Best Features
FeelFree Lure is well-known for its extreme stability
Ideal kayak for a heavy person
It has adjustable gravity seat, and you can easily position it
This kayak has an incredible "Wheel in the Keel" design for convenient transportation
Storage for fishfinders and sensors is available via a removable sonar pod in the center
FeelFree lure has watertight storage space throughout
It stands out among all other kayaks due to its most elegant design
Drawbacks
FeelFree lure does not have a radar for a better tracking system
There is a need for an adapter on the sides of the Uni-Track system
It is a little heavy for small people
The BOTE Zeppelin Aero is an innovative design that resembles a mix between a paddleboard and a boat. It has a high seat and a flat. In addition, BOTE Zeppelin Aero has an open cockpit design that allows sufficient space for heavier people.
The inflatable seat that attaches to the stern of this kayak gives plenty of padding. Its seats also support raising your neck for a more comfy seating posture. The gunwales on this kayak are around nine inches thick in the center and closer to 14.5 inches at the bow.
BOTE Zeppelin Aero is one of the favorite kayaks of big guys and girls due to its innovative features. When fully inflated, the Aero has a maximum weight capacity of 600 pounds and weighs only 41 pounds. It is also 12'6" long by 38" wide, with the seat measuring 18.75" high by 25" wide by 22" deep.
This kayak's floor and tubes are meant to withstand higher pressures than other inflatable kayaks. When you're on the water, the increased pressures make the kayak more stiff and stable. As a result, it lasts more than other typical kayaks all around.
Overall, this kayak is a fantastic choice for heavier and taller people!
Best Features
This kayak is a highly versatile inflatable kayak designed for solo and duet paddling.
It has a triple chamber design that inflates pretty rapidly.
The drain holes on the kayak's bottom perform a fantastic job of draining water from the board, avoiding water from piling up while paddling.
Kayak seat, paddle, RAC system, and extra-large waterproof rolling bag are all available
A 30-day money-back guarantee is available, as well as a two-year warranty.
Drawbacks
When compared to tandem, solo paddle performance requires a bit more effort to get up to speed.
Need more Magnepods put around the deck because people enjoyed this feature so much.
What Goes Into Selecting the Best Kayak for Big Guys - 5 Vital Points to Consider!
It's expected that bigger paddlers might be hesitant to purchase a kayak. After all, it's a considerable investment, and you may be cautious about whether you'll enjoy it. Therefore, certain aspects should be noted before purchasing. For instance, the kayaks should be broad enough, have sufficient weight potency, etc.
Here're the five critical points of these factors:
The Kayak's Weight
It's important to note that the weight of a kayak affects its weight limit capacity. So, calculate the weight of a kayak and add it to the total weight you'll have to put in your kayak.
A simple calculation for determining the best capacity kayak for you:
(Your Weight + Kayak Weight + Gear Weight)/.8 (to consider for a 20 percent weight limit between you and the highest weight a kayak can carry)
So, if you weigh 250 pounds, add a 50-pound kayak, and 25 pounds in gear, you'd need a kayak with a capacity of around 400 pounds. It's all about getting the ideal middle where the kayak's weight isn't so heavy that it's difficult to carry – but also not so light that it affects stability.
The Kayak's Weight Carrying Capacity
When buying a kayak, the most crucial factor is whether it can hold your weight. Most kayaks will not sink if you overload them by 10 or 15 pounds, but it will impair their capacity to perform to their full capability. The figure that everyone agrees on is kayaking circles is 80.
In other words, you should only carry your kayak with around 80% of the weight that the supplier recommends. Please remember that the total weight of all paddlers PLUS all kayaking accessories will be loaded into your kayak.
When considering how much weight capacity you need, remember to account for 50 to 100 pounds of kayaking gear.
Dimensions of the Kayak
Dimension is the most critical factor - if you are anxious about flipping over or capsizing. Buy a kayak with a broader beam (width and length). While most kayaks are pretty stable, it can still be an issue for larger persons on thinner boats.
Any recreational kayak with a beam of 30 inches or more would be more than stable enough for every paddle. Plus, kayaks' skegs and rudders that extend into the water will also improve their balance. Kayaks with broader and flat hulls are likewise more challenging to flip. Avoid kayaks that are smaller than 30 inches wide.
Type of the Kayak
There are three kinds of kayaks: sit-in, sit-on-top, and inflatable kayaks. Not each type is perfect for heavy persons. However, the sit-on-top kayak is the ideal type for a large person.
Sit-In Kayaks
Sit-in kayaks, the name is itself explaining the definition. You enter the kayaks, and your bottom body is confined to a specific space. They are, without a doubt, difficult to enter and escape, which may be difficult for a heavy person. Therefore, this style is not suitable for huge crowds.
Sit-On-Top Kayaks
Sit-on-top kayaks allow you to position your legs in front of you. Furthermore, you may quickly get inside and outside with no effort. They are more stable because they are more expansive than Sit-In Kayaks. So, it is simpler for the paddler to stand up while on the water. They are highly recommended for big guys!
Inflatable Kayaks
They are more stable than Sit-In Kayaks because they are broader. Inflatable kayaks are easy to carry anywhere you like. They are the most convenient form of kayaks out there. The only downside is that their weight carrying capacity is slightly less than the other two.
Adequate Leg Space and Easy Maneuverability
Getting in and out of the kayak is, of course, a real headache for larger paddlers. This is less of an issue with sit-on-top versions that have a large open deck. But it can be difficult for heavier or tall persons to fit inside sit-inside kayaks. Knowing this, search for kayaks with a larger cockpit opening and movable footpegs.
Plus, make sure that the kayak has enough space for legs and you can control its footboard. Because these features will go a long way toward guaranteeing your convenience on the water — and assuring you can still pull yourself out.
How to Choose the One Kayak That Suits You Best? Pro Tips!
Choosing one kayak out of the several decent models can be tricky. However, it is indeed possible if you take some factors into account. First, you need to ask yourself what your requirements are. Once you have listed what you need, finding the solution will be cake.
So, we have listed nine queries you must ask yourself to get an idea of which model will work best for you:
Are you able to transfer and store a kayak?
Which is a good fit for you: Sit-In, Sit-On-Top or Inflatable Kayaks?
Where are you going to paddle — rivers, lakes, or coastal waters?
What do you want to do with the kayak – leisure, touring, fishing, or compete?
Do you paddle by yourself or with a friend?
Do you prefer stability or space?
What size kayak do you require in terms of width and length?
How much weight are you willing to carry?
Which method of propulsion do you choose?
After honestly answering all these questions, you will gain clarity about what are the features that your kayak must have and which elements are not that essential. All this information will allow you to make an informed decision that you will cherish later!
Frequently Asked Questions
Can You Go Slightly Over the Designated Weight Limit of a Kayak?
When being tested, all kayaks are loaded with increasing weight until a point comes when they cannot remain afloat. Therefore, you can slightly over the designated Kayak weight limit. But, it's not advisable according to safety measures.
People think that that's the weight-carrying capacity mentioned with the product. However, that's not the case! Brands tend to publish a lesser capacity than the actual one just to be on the safer side. In essence, you can add 2-3 pounds over the limit.
How to Distribute Weight Effectively While Sitting in a Kayak?
To ensure that you have evenly distributed the weight across the Kayak, divide your boat into four arbitrary quadrants and try to keep an equal amount of weight in all of them so that it doesn't turn over.
Proper weight distribution is essential as kayaks are small boats with poor balance.
What Are the Ideal Ways of Getting In and Out of a Kayak?
For a sit-on-top kayak, you just have to hop on, swing your legs in, and paddle away. However, for a sit-in kayak, you need to get the kayak near support and then carefully balance yourself inside using the support and your body weight. To get out of a kayak, paddle it perpendicularly towards the shore until it reaches shallow water. Then, get out with caution using the paddles or your hands for support.
What Are the Safety Rules You Must Follow While Kayaking?
The most important safety rules you must follow while kayaking are:
Make sure that there are no leaks in the kayak
Check the forecast and do not go if it is about to rain
Keep offshore winds in mind when returning to the coast
Always wear protective clothes that will resist the climate
Follow all other kayaking rules that your area has specified
Kayaking is a dangerous sport, and it requires you to follow some essential precautions so that nothing terrible happens.
The Bottom Line
Kayaking is considered one of the most thrilling adventurous sports, and to have a good time. Of course, you need to have the best equipment. If you're a larger-than-life person, things can be a tad more challenging. Not every kayak will suit you. So, you'll have to be extra picky in order to select the best product.
That's not as mundane and boring as it sounds! We have done all the hard work in formulating this comprehensive buyers' guide, hopefully giving you a broader perspective about the situation.
Follow the points mentioned above and make a list of the elements you want in your kayak. Once that's sorted, go through our list of the top seven best kayaks for a large person, and pick the one that best suits you!
So, go make a choice that will escalate your kayaking experience to the next level!
If you're a big guy, finding a kayak that suits you is not an easy task! There are loads of different kayaks out there that claim to be the best in the business. And as a regular person, it can be quite challenging for you to determine which of them is actually the best one for you. So, here's an all-inclusive, unbiased buying guide that will help you narrow down the variables in order to reach the one kayak that's made for you!